Geelong's Indoor Climbing Centre
The Rock Adventure Centre has been Geelong's vertical obsession since 2001.  With a huge variety of climbs from beginners to experts, gear shop, cafe and an extensive bouldering and training area - The Rock has all your climbing needs covered.
Climbing for all ages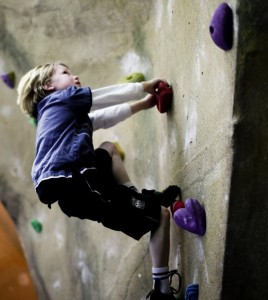 The Rock caters for kids of all ages, ask us about our Birthday Parties!
Bouldering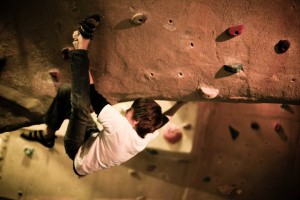 Upstairs, we have our MASSIVE bouldering cave, with over 500m² of constantly changing problems of every style and grade.  Fully padded floor, climbers of all ages and skill levels can get up there to test physical limits, and train for strength and endurance.
Google maps Virtual Tour
The Rock is a great place to climb, but if you haven't been here it can be hard to understand the place. Click on the link below and you get to experience The Rock almost like you were here with a virtual tour. Go ahead, give it a try and have a look around.
Over 100 Climbs on 25 walls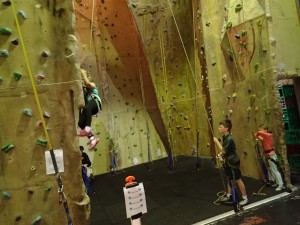 With walls up to 12 metres high, an extensive roped climbing area with 2 auto belays and 23 top rope set-ups to choose from - over 100 climbs to test every level.  Routes are changed often to create new challenges for regular climbers.
Gear Shop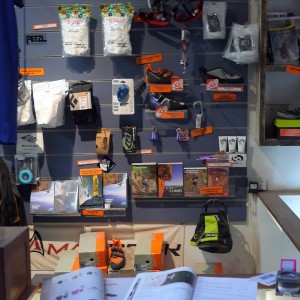 Climbing equipment shop, with all your climbing needs: Chalk, chalk-bags, guidebooks, shoes and much more.  We also welcome orders for gear not in stock.  More info on our Gear Shop page.
Training areas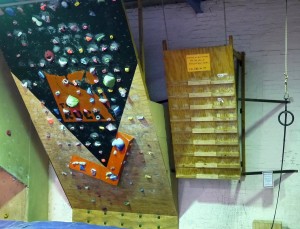 Extensive training area for intermediate and advanced climbers, stretching area, campus boards & more.
Lead Climbing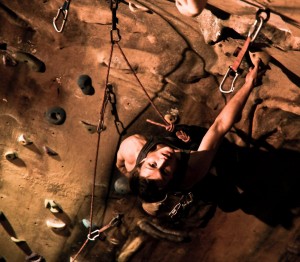 For experienced climbers, 11 walls are equipped for lead climbing, with routes up to 15m long.  Bring your own rope, and preferred belay device. If you have not lead here before, you will need to go through a lead check, call first to make sure we can accommodate you.
Covid-19 Closure
As of March 23rd The Rock Adventure Centre is closed. This is been enacted by the Government to help stop the spread of the Covid-19 Virus. Stay tuned to our socials for updates on re opening. Wash your hands and be kind to each other, we'll see you back soon.
Where are we?
Rear 403 (River End) Pakington St,
Newtown, Geelong
Phone 5221 3101
Opening Hours
CLOSED Until Further Notice Due to the government  Covid-19 shutdown
School Term Times:
Monday - Friday 4:00pm-9:30pm
Saturday 10:00am-5:00pm
Sunday 1:00pm-5:00pm
Public Holidays 12:00pm-5:00pm
(Closed over Xmas)
School Holiday Times:
Monday, Wednesday, Friday, Saturday, Sunday 12:00pm-6:00pm
Tuesday and Thursday 12:00pm-9:30pm
Trip Advisor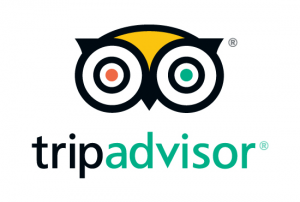 Are you on Trip Advisor? If you are and you loved The Rock, or just really liked it, Pop on over and let everyone else on Trip Advisor know. Thanks.
Testimonials
Popped in for the first time with the kids. Very friendly and helpful staff the entire time we were there. Looks like the place is well used by the locals and whilst we were there for 2 1/2hrs a broad range of visitors came in from other families to what appeared to be very experienced climbers tackling the more challenging walls. Clean bright and airy, the warm up area for the kids upstairs was a great way to build their confidence in getting ready to be harnessed. The team even had a small harness for the youngest one (4 1/2yrs) who also had a climb. With a very relaxed atmosphere there were walls for all levels of difficulty and no rush or pressure to move from any one wall. Great way to spend some holiday fun with the kids and build their confidence not to mention the team work. We'll definitely go back!  (Bunchof5)
Being more of a mountain dweller and ice climber I was a bit stand offish about the whole gym climbing idea but was met with friendly staff who were helpful with instructions. There is a wide range of gear for hire and purchase at great prices. Plenty of walls with grades for beginners through to the very much seasoned climber. Also has a fantastic bouldering area. Highly recommended.  (Maquarie A)
Love this place! Super friendly staff, always someone to climb with/ willing to belay. Huge boulder area and a decent range of easy to brutal climbs. Free parking too! 🙂  (Douglas H)
Ok guys. We have an opening date, fingers crossed and everyone be good, practice social distancing and wash your hands.
Another Black Diamond order going in today, anyone after a good bargain? 10% if you order today. Get on it and get some gear for your indoor and outdoor adventures.
Very exciting news, we have a date and if everything stays well and stable for the next few weeks, The Rock will open on Monday the 22nd of June! We are beyond psyched to see you all back, but we can't see you all at the same time, restrictions will be in place on numbers. A booking system will be on our website soon so you can book in a 2 hour session. Our weekdays will also have increased hours, 3:30pm till 9:30pm, this will allow 3 sessions a day.
Remember to stay apart, stay safe and wash your hands. If we all do a little more, we can get back to The Rock soon.
Some very important tips here, read them and take on board. Via tally important to make sure you know what you're doing before you play with Trad, it fights back.
We have all done one of these, cmon be honest, which are you guilty of?
We are still closed for the moment, fingers crossed for and opening sometime soon in June. We have not been idle, the bouldering area has had a complete re-set and we are working our way through the roped area with new routes. Some massive cleaning and re painting as well, we hope you will still recognise the place when you get back.
Another video to keep the psyche high.
A lot of you may have home walls or finger boards. A good warm up is key to better performance and reduced injury. Really good little routine to get everything moving from one of the most experienced comp climbers out there.
You still have time to jump on the Petzl order and get 15% off.
Don't forget, you only have a few hours to get your Petzl order in for 15% off. Message us if you're keen.
Petzl order going in tomorrow. We can offer 15% off anything you order and if needed, home delivery (locally). Get in fast, as the order is going in tomorrow. Great way to grab some new draws, and GriGri or just some chalk/ liquid chalk.
Some great little core workouts you can do at home.