Geelong's Indoor Climbing Centre
The Rock Adventure Centre has been Geelong's vertical obsession since 2001.  With a huge variety of climbs from beginners to experts, gear shop, cafe and an extensive bouldering and training area - The Rock has all your climbing needs covered.
Climbing for all ages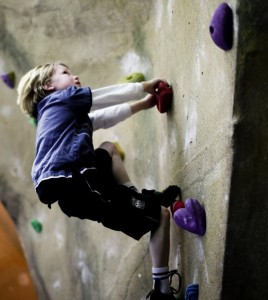 The Rock caters for kids of all ages, ask us about our Birthday Parties!
Bouldering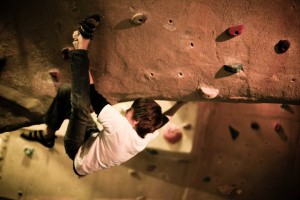 Upstairs, we have our MASSIVE bouldering cave, with over 500m² of constantly changing problems of every style and grade.  Fully padded floor, climbers of all ages and skill levels can get up there to test physical limits, and train for strength and endurance.
Google maps Virtual Tour
The Rock is a great place to climb, but if you haven't been here it can be hard to understand the place. Click on the link below and you get to experience The Rock almost like you were here with a virtual tour. Go ahead, give it a try and have a look around.
Over 100 Climbs on 25 walls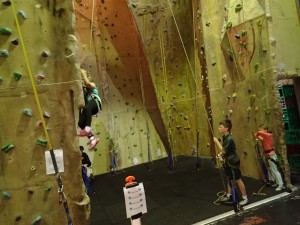 With walls up to 12 metres high, an extensive roped climbing area with 2 auto belays and 23 top rope set-ups to choose from - over 100 climbs to test every level.  Routes are changed often to create new challenges for regular climbers.
Gear Shop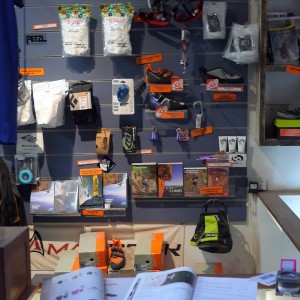 Climbing equipment shop, with all your climbing needs: Chalk, chalk-bags, guidebooks, shoes and much more.  We also welcome orders for gear not in stock.  More info on our Gear Shop page.
Training areas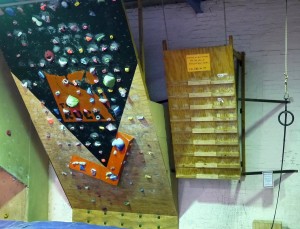 Extensive training area for intermediate and advanced climbers, stretching area, campus boards & now with a 2016 set Moon Wall, check out https://moonboard.com/
Lead Climbing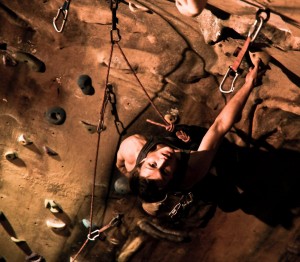 For experienced climbers, 11 walls are equipped for lead climbing, with routes up to 15m long.  Bring your own rope, and preferred belay device. If you have not lead here before, you will need to go through a lead check, call first to make sure we can accommodate you.
Covid-19 Re Opneing
We are opening back up again on Wednesdy the 28th of October. We are super excited to welcome everyone back. Booking form is over there, so jump on and book in your session, as numbers are very limited.
Where are we?
Rear 403 (River End) Pakington St,
Newtown, Geelong
Phone 5221 3101
Opening Hours
We're OPEN!  See the Post Covid Booking form/sessions page for more info.
School Term Times:
Monday - Friday 3:30pm-9:30pm
Saturday 11:00am-5:00pm
Sunday 1:00pm-5:00pm
Public Holidays 12:00pm-5:00pm
(Closed over Xmas)
School Holiday Times:
Monday, Wednesday, Friday, Saturday, Sunday 12:00pm-6:00pm
Tuesday and Thursday 12:00pm-9:30pm
Trip Advisor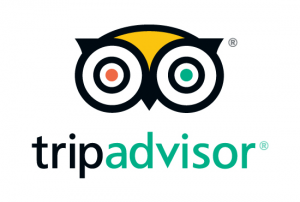 Are you on Trip Advisor? If you are and you loved The Rock, or just really liked it, Pop on over and let everyone else on Trip Advisor know. Thanks.
Testimonials
Popped in for the first time with the kids. Very friendly and helpful staff the entire time we were there. Looks like the place is well used by the locals and whilst we were there for 2 1/2hrs a broad range of visitors came in from other families to what appeared to be very experienced climbers tackling the more challenging walls. Clean bright and airy, the warm up area for the kids upstairs was a great way to build their confidence in getting ready to be harnessed. The team even had a small harness for the youngest one (4 1/2yrs) who also had a climb. With a very relaxed atmosphere there were walls for all levels of difficulty and no rush or pressure to move from any one wall. Great way to spend some holiday fun with the kids and build their confidence not to mention the team work. We'll definitely go back!  (Bunchof5)
Being more of a mountain dweller and ice climber I was a bit stand offish about the whole gym climbing idea but was met with friendly staff who were helpful with instructions. There is a wide range of gear for hire and purchase at great prices. Plenty of walls with grades for beginners through to the very much seasoned climber. Also has a fantastic bouldering area. Highly recommended.  (Maquarie A)
Love this place! Super friendly staff, always someone to climb with/ willing to belay. Huge boulder area and a decent range of easy to brutal climbs. Free parking too! 🙂  (Douglas H)
After some great work done by regional Victoria we are re opening for everyone this Wednesday at 3:30. First for Team Rock but then for everyone.
As per our last opening, bookings are required through our website, our numbers are limited at 10 bouldering and 10 on the ropes. Make your booking for either, sorry, not both.
Of course we need to keep everyone safe, if you are ill at all, or from Melbourne, then you will need to stay home. Wash hands regularly and maintain social distancing. We could not be happier to see you all back this week though. Get Psyched.
We are beyond happy that we will be re opening in November. Unfortunately it will be just for under 18's only. So we will be opening a few hours for Team Rock and Climb-it Club each week. We know there are a heap of young crushers who are frothing to get back in for a climb. We will open at 4pm Wednesday the 4th till 6pm, Thursday the 5th from 4pm till 6pm and Saturday the 7th from 10am till 12pm. This will continue until we get the all clear to open to everyone. Sorry we can't have parents stay, but drop offs will be fine. Of course we have our COVID Safe plan in place and of course we ask that if you are ill or been around anyone ill, that you stay home and get well.
Hopefully it won't be long till we can have everyone back at The Rock, we have missed all of our climbers, stay safe, stay strong and we will see you soon.
Warming up is incredibly important, especially as you get older, cough cough.. jump on for a learning session to help your body now and into the future.
We are glad that regional Victoria is moving to the next step, unfortunately at this point The Rock is not included. Well not just us, but indoor gyms throughout regional Vic. We don't have any firm idea on our re opening date as yet.
Stay tuned here because when we know, then so will you. We are still busy setting new routes and making sure The Rock is going to be fresh and clean when you get back. Keep stretching, working your core and we'll see you soon.
Rainy Saturday, no climbing! Have a laugh here youtu.be/dfUzbguPx_Y
Тот самый единорог, который взорвал инстаграм 😉 http://instagram.com/donskoy_artem/ Скалолазание это фан 🤪 Это не только про результаты и достижения, здесь м...
We were hopefully going to see you all back again in a week or two, but the new roadmap out of this means that we won't be open again until later this year. Stay strong and safe, if you need anything, contact us and we can try to help keep you moving and somewhat strong. Let us know if there is anything you would like to see here from us. Technique, tips or just some videos to keep you psyched.
Happy 19th Birthday to The Rock Adventure Centre. Yep, 19 years ago today we first opened to the public and it has been amazing, mostly because of all the wonderful and stoked people we get to meet and help get started climbing and continue to enjoy The Rock and elsewhere. Thank you to everyone that has enjoyed our space and a massive thanks to The Rocks staff, for making it what it is. We are really bummed that we don't get to celebrate with you all this year. Hopefully we will see you all in a couple of weeks for a belated Bday. #happybirthday #19yearsold #climbing #bouldering #geelongclimbing
We all know core is incredibly important for climbing, it connects all our bits together and helps immeasurably with your climbing. As much as we are looking forward to having you back, we can't yet, but here are 5 simple core exercises for you to get you body back in time.
15 minute circuit and do 30 reps of each and see how many rounds you can do.
Flutter Kicks
Heel touches
Plank leg raises
Dish-tuck
Side plank crunches
If you are having trouble, drop the reps down to 15 or 20 each. Have fun and we'll see you soon. #climbing #coreworkout #bouldering #staysafe #seeyousoon