Climb-it Club is a Term Program designed to give participants between the ages of 6-12 the chance to learn and develop a range of new climbing and safety skills in a friendly and supportive environment.
You choose to meet once or twice a week and guided by our friendly ROCK Instructors,with a third UN-facilitated session during the week, climbers work together, developing trust, responsibility and team work while working towards their own individual climbing goals. If your child is looking for a start to an adventure that could last a lifetime, get in and have a try.
Fitness, strength, fun and new friends to meet, climbing has it all and with Climbing now in the Olympics, this may be the start of some Olympic Dreams.
We finish each term with a day trip to nearby You Yangs, Staughtonvale or Werribee Gorge where climbers can enjoy a day of OUTDOOR CLIMBING & ABSEILING
New members are welcome anytime throughout the term.
TIMES: School Term 2022
4:30pm-6:00pm Thursday
  10:00am-11:30am Saturdays
COSTS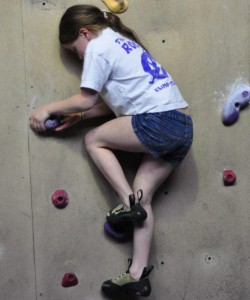 All costs include entry, harness hire and facilitated session.
CASUAL RATES: $30 per session
(Outdoor trip is $90)
OR
DISCOUNTED TERM* PACKAGE - ONLY $400
Includes 2 Weekly Indoor  facilitated Sessions as well as unlimited climbing outside the Thursday and Saturday sessions (hire gear charges apply) & Outdoor Trip!
Term Package Payment Option:
Pay $250 upfront and 3 x $50 installments.
* Depending on the term, that's about 10 weeks or up to 20 sessions and the Outdoor Trip included!