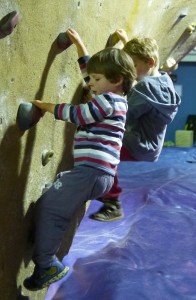 Ph 03 52213101
We have been running kids birthday parties at The Rock in Geelong since 2001 and are proud of providing the best exciting and safe adventure party for your child.   Drop in and see us and you'll agree.
Kids Birthday Parties start with fun PARTY GAMES in our 'bouldering' area, where children will burn off some excess energy and get warmed-up for their upcoming rock climbing experience.
Then they GO ROCK CLIMBING!  Children are encouraged to climb only as high as they feel comfortable, with most children getting higher and higher with each turn they have on the 12 metre high walls as their confidence grows.
Kids Parties finish upstairs in our Party Area with an ice-cream Birthday Cake, Softdrinks & Lollybags. (all provided)!
Indoor Rock Climbing Kids Birthday Parties are ideal for boys and girls aged 6 and over.
Kids Birthday Party Sessions run for 2 Hours and are fully facilitated and supervised by our friendly, experienced ROCK Instructors at our Indoor Centre in Newtown, Geelong.
Cost: $280 for up to 10 kids, $28 per child after that.
Self Catering Option is at a flat rate $50 for the group, this includes everything listed above, but allows an extra half-hour on our Mezzanine Party Area for your own self catered party-food.  We supply all the crockery and cutlery PLUS we do all the cleaning afterwards No Mess, No Fuss Birthdays.
Phone 03 52213101 or click on our booking form and we'll get back to you ASAP.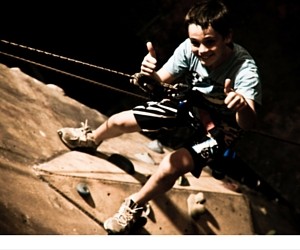 …As their hand reaches the top of a 10 metre wall & their smiling face looks down & shouts, "I made it", you can't help but share their exhilaration. At The ROCK Adventure Centre we also feel that excitement & pride ourselves on providing the best in a safe, fun & hassle-free birthday party that your child will remember for a lifetime!

For any Birthdays booked for the Month of December, mention this promotion and receive a Free Family Pass. That's 2 Adults and 2 Children with harnesses included, worth over $70, to use either before or after your party. A great way to sample The Rock before your party or to come back and relive the fun and excitement.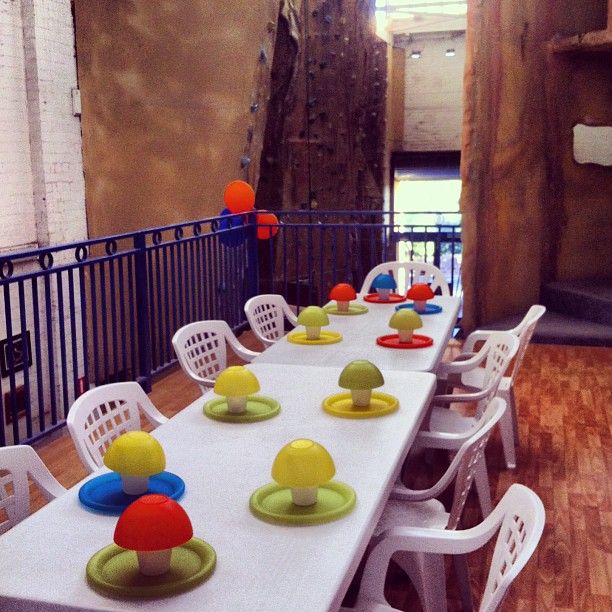 Testimonials
My 7 year old son and 9 friends had a ball at The Rock. It was my first experience 'paying' for a birthday party as all previous ones had been at home and now I am hooked! We also booked the party room and took some of our own food which made it so easy; they heated the party pies in the pie warmer and put the other food into bowls!. All plates etc provided, plus ice cream cake, soft drink and lolly bags. The boys were active the whole time with games and climbing in an amazing space. We were the only group there, no sharing or waiting for other kids. Their instructor Richard was terrific with them, explaining, demonstrating and also just letting them have fun. The kids kept going back to the bouldering room upstairs although all did have at least one go at the rope climbs. Highly recommended for active kids and fantastic value for money. Needed to supply two adults to help with rope climb so I will take an extra adult to take photos next time. I wouldn't take any more than 10 so that there wouldn't be too much waiting on the rope climbs. Staff were flexible and understanding and overall were very helpful. We will be back!
Happy Mum
I wasn't sure what to expect first with 8years old 10 girls but thanks to friendly staff it was a bless. They first had a game upstairs, then practice downstairs and staff was soooo friendly and helpful. They heated and served the food, drinks and bday cake. Table was set beautifully and room was decorated..I literally sit back and enjoy ah of course took 1000 pictures along the way 🙂 we will definitely be back soon as my daughters friends started to plan their party after us. My daughter said "mum, it was the coolest party EVER"! So I was happy girls had a ball and most importantly my lil girl had a great time! Great job guys
Elif