We have been doing school holiday activities at The Rock Adventure Centre since 2001 and since then our reputation for the best, exciting and safe time for kids and parents alike has become cemented around Geelong and the Surfcoast.
The instructors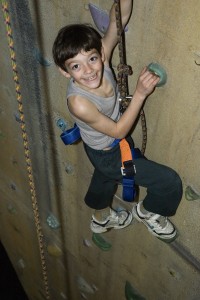 at The Rock have been trained in house by our senior instructors and have have years of experience, training, supervising and giving Geelong families the best and most exciting experience in town.
Climbing is a great sport, but most people believe that it is all about upper body strength, or that you have to be a mad adrenaline junkie to participate, but more and more people are finding it is a great fit for their kids. Either for a one off session or as a new focus for their time and energy. It is always a great feeling to see a timid child really open up and conquer their fears as well as push themselves to find some new limits and have an awesome time doing it.
Our fully supervised sessions are a great way for kids to have their first forays into the vertical world in a safe and supportive atmosphere and parents can feel confident that the kids will have an exciting adventure at The Rock Adventure Centre.